Imported olives, stuffed artichokes, mushrooms, and peppers are all available for purchase at both Frigos locations.
This is the time of year that we pause to be thankful. Italians express thanks by feeding everyone. It's how we show our love.
With the holidays upon us we've been busy stocking the shelves at Frigo's with your family's favorite traditional foods- imported olive oils, chestnuts, jams, torrone and panforte. We've filled our cases with cured meats and Italian cheeses that were ordered months ago to ensure they arrived just in time for the holiday rush.
We take particular pride in our cheese counter with its unique selections of piaves, Parmigiano-Reggianos, creamy mountain gorgonzolas and artisan made curricula, a flavorful cheese from the north of Italy. Joe's particular favorite, taleggio, a soft cheese produced in autumn with a pungent smell, has a surprisingly bright taste that pairs perfectly with our Nebbiolo wines.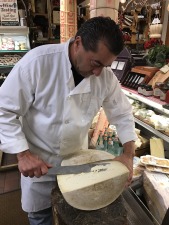 This is the season for reflection and remembering. This time of year with the many choices of prosciutto, pancetta, capocollo, sopressatta, and mortadellas we have available at our meat counter, Joe thinks back to the days when he and his father would have to bone out the prosciuttos by hand. Staying late into the night, they would shimmy the bones out using sharp knives, careful not to damage the meat. Prosciutto cannot be sliced with the bone still in. And you cannot have an antipasto platter without thinly sliced prosciutto. These small moments of recall reaffirm our dedication to you, our customers. From our family to yours, we wish you a very Happy Thanksgiving!!